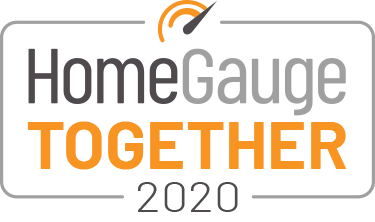 HomeGauge Together 2020, held on April 23, 2020, was a great success!
UPDATE: Some recorded sessions are now available to view. More coming this week.

ABOUT HOMEGAUGE TOGETHER 2020
We are thrilled to announce that we will be holding our first-ever online conference — HOMEGAUGE TOGETHER — on April 23, 2020. No matter your experience level or the software you currently use, if you're a part of the home inspection industry, you're invited to log on for a day of learning, insight, and connection.
HOMEGAUGE TOGETHER will feature presentations from the HomeGauge team and other industry experts, panel discussions, workshops, product updates, sneak peek demonstrations, breakout rooms, show specials, prizes and surprises, and — we hope — YOU! There will be exclusive content for Extra Care members too.
Optional: Attendee Practice, Accessing the Sessions 
Presenter: Dax Hamman, CMO @ HomeGauge
Get setup with Zoom and practice accessing the day's online sessions.
Welcome to HomeGauge Together 2020! 
Presenter: Dax Hamman, CMO @ HomeGauge
Dax will introduce the conference, and provide further details about how the day will work, how to find the different sessions, and how to get help as the day progresses. We will also announce details on our prize giveaways and how to enter throughout the day!
Opening Remarks
Presenters: Paul McIntyre, General Manager @ HomeGauge / Shancy Garrison, Business Relationship Manager @ HomeGauge
Giving thanks to our community.
HomeGauge Product FAQ
Presenter: Mike Rogers, Product & Engineering @ HomeGauge
Mike Rogers will be in session taking questions (both pre-submitted and live in the morning) about the HomeGauge products, recent innovations, and what we're busy working on for the future. In advance of this session, we highly recommend you check out the last Q&A with Mike.
The Perspective of the Real Estate Agent
Presenters: Rachel Kane and Teddy Burns
Hear directly from realtors about how inspectors can and have provided extra value to them.
Extra Care, Extra Value
Presenters: Eric Orthey, Rebecca Laird, and Dennis Kruger, Extra Care Inspector
As you hear us talk about Extra Care, I'm sure you'd like to know more about it and how it benefits you and your buyers. Let us show you how it can set you apart from your competition, hear buyer testimonials, and we have a special Extra Care inspector as a guest to share his experience!
HomeGauge Support Team
Presenter: Suzie from Sales & Support
Suzie will be introducing HomeGauge's Support Team and clarifying how to contact us when you are in need of assistance. She will show you how to navigate our Support Center, demonstrate the first lesson in the HomeGauge Handbook, and discuss our new training program, which is designed to help home inspectors who have just joined HomeGauge find success.
Making a New Plan After You've Been Punched in the Face
Presenter: Kerry Makin-Byrd
Part 1: This is a sh*t sandwich
Emotions aren't just for hippies — acknowledging the anger and sadness around this stupid time so we can function again

Your spouse, kids, and employees aren't going to cope the same way

Shit happens — figuring out how you want to show up for this challenge
Part 2: Thriving mindset to face overwhelming challenges
Figure out what you have control over and what you need to give up on (pizza hut taco bell metaphor)

Who are your comrades in this? Reach out to your people — be in it together

Burn it down to innovate — what does this teach about skimming the fat off the business, what your customers miss most, and how you can still add value to their lives?
Part 3: Concrete skills — training for the clear, focused mind you want
Tactical Breathing

Navy Seal Box breathing

Progressive Muscle Relaxation
A.L.A.R.M.: Trusting and Connecting with Your Intuitive and Unconscious Mind
Presenter: Stuart Palm
"I can not guarantee how this will act on your life, I only know it will…"
Stuart Palm shares his system for connecting with your unconscious and intuitive mind. In this thirty minute interactive lecture Stuart will entertain and enlighten as he teaches his A.L.A.R.M system. The A.L.A.R.M. system will guide participants on how to acknowledge their unconscious experience and grow their ability to read any person or situation with a single glance. Stuart will guide guests on understanding what the unconscious is, how to connect with their own unconscious guide, how to use a pendulum for fun and self discovery, and daily practice that will help anyone gain intuitive growth. This talk will conclude with Stuart Palm's amazing Third Sight Vision act adapted for online live presentations.
To best enjoy and join in during this presentation please have ready with you the following:
A set of poker chips and/or a "challenge coin" style coin.

A pendulum (any weight hung from a string or chain. This can be a ring, pendant, or washer 

hanging from thread or string, or a fancy pendulum from a metaphysical shop, all will work fine.) 

Your own open and unencumbered mind.

A few sheets of blank printer paper.

A sense of wonder.

A dark, bold, felt tipped marker.

A sense of humor.

A chair with an arm rest if possible.

Your intuitive and unconscious mind.
Overcoming Obstacles to Build Your Business
Presenter: Stephen Michael Miller
Two things you can do to remove the obstacles in your business. Overcoming fear and applying a universal principle. Making the most of difficult times.
Sewer Scopes: What's All The Stink About

Presenter: Troy Thompson — Nook & Kranny
Considering adding sewer scope to your business? This session will cover
how to get started.
Identifying different types of pipe
Determining the type of pipe based on the age of the home
What to look for when performing the scope
What type of equipment is needed
Introduction to Stucco Inspections
Presenter: Michael Spadaccini — Michael Angelo Masonry, LTD
Details TBA
Report Writing with HomeGauge Software
Presenter: Shancy Marie Garrison, Business Relationship Manager @ HomeGauge
Highlighting the best features in HomeGauge desktop software for efficient report writing and standing out above competitors.
Wood Burning for Home Inspectors
Presenter: John D'Aigle – Home-Chek Inspection Services
The presentation covers wood fire science and what causes wood fires in homes, the importance of clearances and what an inspector should know when performing a home inspection at a building which has a wood burning appliance or fireplace.
Working Session On Dashboard Redesign
Presenter: Mike Rogers, HomeGauge
We'll be working with the group on some ideas we have for updating the buyer experience.
ScheduleNow Overview

Presenter: Mike Rogers, HomeGauge
Mike will be walking through everything related to our new FREE feature for subscribers, ScheduleNow. He will cover configuration, how to include in emails, and more.
Web-based Report Writer
Presenter: Arpan Shah, HomeGauge
Come catch a sneak peek of the next generation, web-based report writer — it focuses on speed, flexibility, and most important of all; saving you time! Existing HomeGauge users will also learn how they can get early access to the platform.
Social Media Working Session
Presenter: Chris Navin, HomeGauge
Social media is a great tool that allows you to stay engaged with your audience, without any budget. With a little bit of preparedness, and nothing from your wallet, your marketing will be stronger than you ever thought it could be.
Benefits of InterNACHI Membership
Presenter: Ben Gromicko, InterNACHI
Choosing the right organization is important in the inspection industry. Join Ben Gromicko to learn more about the benefits of membership with InterNACHI.
Benefits of ASHI Membership
Presenter: Jennifer Gallegos, ASHI
Choosing the right organization is important in the inspection industry. Join Jennifer Gallegos to learn more about the benefits of membership with ASHI.
Don't Try This At Home – Why You Really Should Let the Pros Build Your Website and Perform Your SEO
Presenter: Sarah Dennis, HomeGauge

When a home has an electrical issue, you recommend that your customers hire a licensed electrician. When there's something wrong with the plumbing, you recommend that they call a plumber. This presentation applies that same logic to your website – why try to build it and perform your own SEO when you can let the specialists at HomeGauge do it for you?
Marketing to Millennials, Boomers and GenX
Presenter: Dax Hamman, CMO @ HomeGauge
We all know the terms Millenials, Boomers, Gen X, Gen Y… and perhaps now this generation of Gen C (COVID), but do you really know who they are, how they want to be marketed to, and how to speak their language to win more business and stand out from the crowd?
Extra Care Refresh: What do my buyers see?
Presenter: Rebecca Laird, HomeGauge Innovation
Going into more depth about the Extra Care program from a home buyer perspective.
More About HomeGauge's Partnership with American Family
Presenter: Todd Bavery, Agency Strategy Consultant at American Family Insurance

Todd will help you better understand American Family, their values, the underwriting process, and the partnership with HomeGauge.
Pandemic Workaround and the Virtual Future of Inspections
Presenter: Rebecca Laird, HomeGauge Innovation
In the blink of an eye, COVID-19 has put the entire world on its heels. Industries like ours have had to pivot abruptly in order to adapt to its health, economic and social effects. "Home" is no longer just where we live; it signifies our very survival. How have the inspection and real estate industries changed and what are some of the ways clients are still being served? What lasting impact might that have on our way of doing business? We also want to hear about your experience. Let's get through this safely and securely together.
Inspection Wizardry: What Home Data Can Do for You and Your Clients
Presenter: Kyle Hundman, Data Science Manager @ American Family Insurance
Learn how Extra Care inspectors can get the inside scoop on upcoming inspections. Data scientists at our parent company, American Family Insurance, are busy gathering insights to give back to inspectors so that you can look like a wizard to your clients, spend more time analyzing problem areas in the home, and feel even more confident that you haven't missed anything. This service will be free only for Extra Care inspectors.
HomeGauge Together 2020 Updates
---
5/18/2020
5:30 pm ET — All recordings available from the conference are online.
5/11/2020
12:30 pm ET — More session recordings released.
5/6/2020
2:30 pm ET — First set of session recordings made available.
4/23/2020
9:45 am ET — Note: Courses in our Training Track are not pre-approved for state CE credit. However, we can provide a certificate of completion on request which will be accepted in some states.
9:00 am ET — HomeGauge Together 2020 begins.
4/22/2020
4:30 pm ET — Conference session links made public.