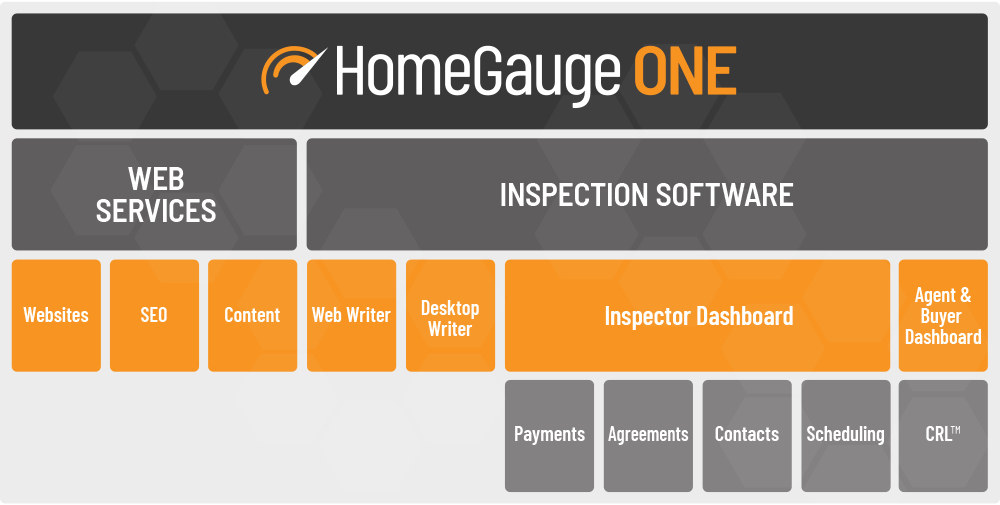 Welcome to HomeGauge ONE, the new name for HomeGauge's software and website services. Our core packages have not changed in price or operation, but this new naming convention allows us to show you a full view of what HomeGauge truly offers the inspection industry.
HomeGauge ONE is a one-stop-shop, providing everything an Inspector may need to manage, market, and grow their business, all under one roof.
No more juggling providers or platforms to manage all your business needs.
HomeGauge ONE does it all for you, and it includes:
Web Writer
Desktop Writer
Scheduler
Dashboard (Buyer & Inspector)
Payments & Agreements
Forms & Templates
CRL (create request list)
Websites, Content, SEO
Extra Care (buyer benefits)
Training & Support
RV Inspections
…and much more!
HomeGauge ONE: Where are we now?
Renaming and organizing our products to provide a whole view and experience of what we can do for our Inspectors.
Launching HomeGauge ONE packaging with new website in Q2
Training on HomeGauge ONE during HomeGauge TOGETHER online conference
Creating new packages to reflect our holistic offerings and some exciting new deals.
HomeGauge ONE: Where are we going?
Our dev team is working to bring you single sign on, so you no longer need to sign in when switching between platforms.
We're also working to bring you real-time collaboration tools within our report writers
Additionally, we're working to build new add-on services and programs to help manage and scale your business, your way.
HomeGauge ONE will continue to grow and evolve to assure that our Inspectors needs are met, and aspirations come true.
To purchase a new subscription, or to upgrade your current subscription, click here.
If you have any questions, we have lots of ways to support you!
Visit our new Community Forum, where you can ask questions, receive feedback, and interact with other Inspectors in the industry about similar topics you can choose from yourself!
Start a live chat with our Support Team for any technical questions or onboarding help.
Visit our YouTube Channel for recordings of our webinars, event trainings, and more!
If you're just looking to browse, check out our Learning Center for industry articles, tips, tricks, and more.
HomeGauge ONE is the future of the inspection industry, and we're proud you've allowed us to provide you with the best solution in the industry for your business.
Be sure to check back for more exciting updates about HomeGauge ONE and what it can offer for you and your business.