Extra Care Inspectors make home-buying easier
Buying a home is time-consuming. When you choose to work with a HomeGauge Extra Care Inspector, you'll be provided with many opportunities to streamline the process and get what you need, without enduring the runaround.
If you are an inspector, you can learn more and sign up for HomeGauge Extra Care here.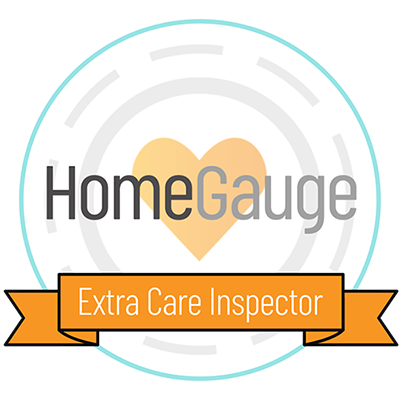 Choose a Home Inspector who has it all
Whether you're a Home Buyer or Real Estate Professional, our Extra Care Inspectors go the extra mile by providing you with opportunities to save time, money, and stress. When you work with an Extra Care Inspector on your property, you can expect:
Extra Knowledge
Things will be easier from inspection to move-in with an Extra Care Inspector, who has access to in-depth training, exclusive events, and important industry connections.
Extra Time
Check all your boxes with one Inspector, who provides easy online appointment scheduling, report viewing, document signing, create request lists, and even a homeowners insurance quote for you, if you'd like.
Extra Savings
Our Inspectors provide you with access to deals that help you save on the things new homeowners need most, like homeowners insurance, curated DIY content, renovation deals, and so much more.
Extra Support
Providing the ultimate set of experiences and accessibility you need, our Inspectors get exclusive access to software betas, extended support hours, and more.
Extra Sanity
Focus on the important things. When you choose an Extra Care Inspector, you're choosing a professional who wants to relieve you of some of the pressure that often accompanies the journey to homeownership.
Extra Access
Get access to more specialized content and stay ahead of the game with the upkeep of your new home.
It's easy to get the benefits from an Extra Care Inspector
If you are already a Buyer working with a HomeGauge Extra Care Inspector, many of these benefits are already coming your way! For additional value, you'll want to:
Log into your dashboard to view your inspection report.
When you're provided with the opportunity to choose from available offers, check the boxes you're interested in. You may opt back out at any time.
If you're not interested in the items available to you at that time, simply leave the boxes unchecked.
If you'd like to opt-in or out, you can log into your Buyer Dashboard and make those changes at any time. Watch the video below to see how it works.
I forgot to request the quote. Can I still get one?
Yes! You can make the change when logged into your Buyer Dashboard. Watch the video below to see how it works.